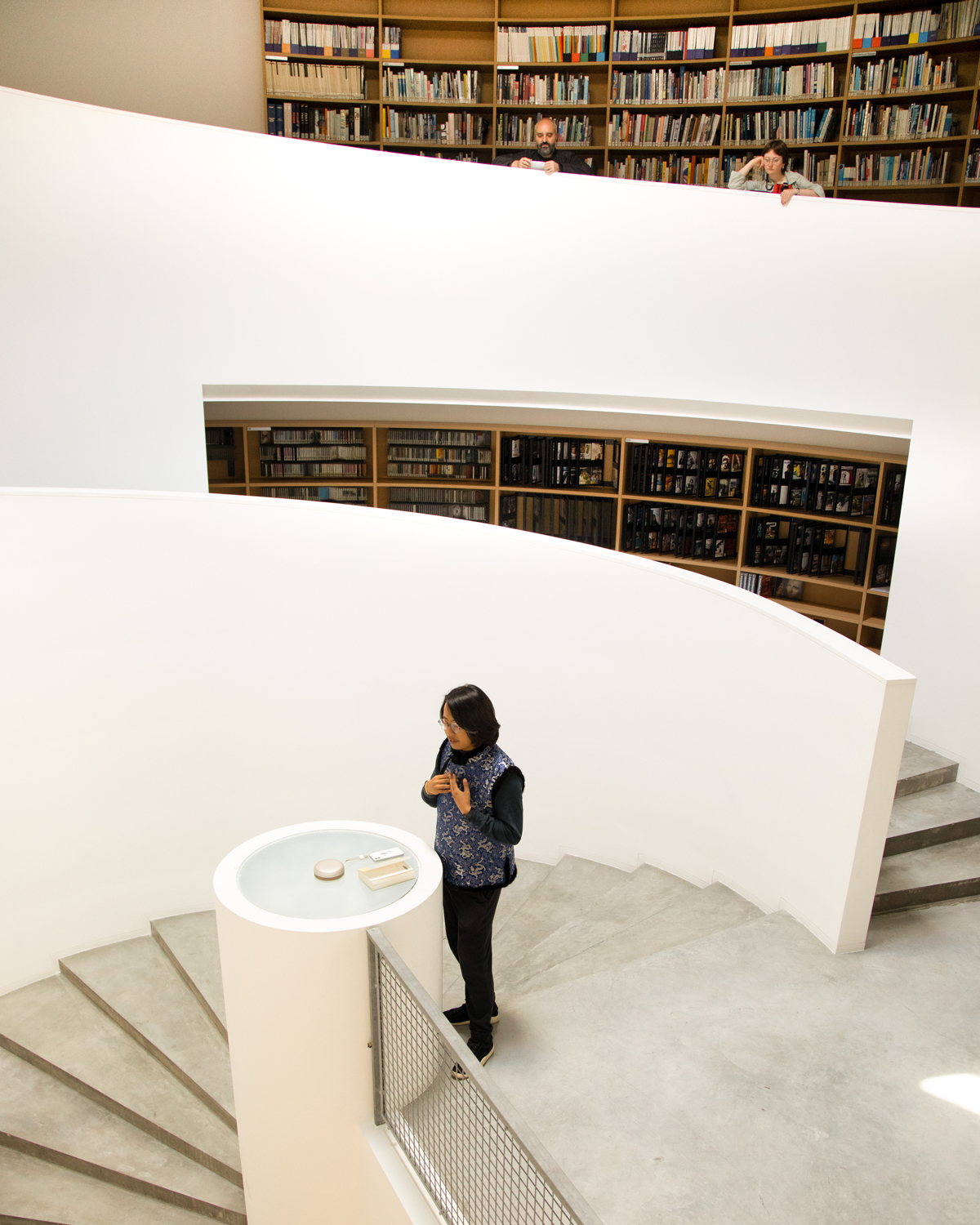 Fabrica's library is hosted in a sort of spiral that descends gradually into the ground and is illuminated from above. It holds more than 8,000 volumes on photography, industrial design, art, graphic design and subjects related to visual communication as well as a a vast collection of international periodicals and over 400 audio CDs covering world music and 300 DVDs by the major international film directors. Recently, the Fabrica library has added a collection of 1,500 volumes about color, by architect Manlio Brusatin, that explores color theory and its various applications across history.
Since 2022 the Fabrica library is part of the Benetton Research Libraries cultural hub which also includes the libraries of Fondazione Benetton Studi Ricerche and the historical Archive of Benetton Group.
The three organizations, which have always collaborated synergistically in their cultural endeavors, have entered Worldcat, the largest worldwide networka of libraries that allows access to more than 351 million records and 3.3 billion books/documents/holdings in 483 different languages.
Using this platform, wherever you are in the world, you can immediately access the cultural heritage of the Fabrica library.
Books
1120
on Art
(including the complete collection of the Imago Mundi catalogs)
740
on Design and Architecture
353
Reference volumes
(atlases and vocabularies)
More books on cinema, narrative, media, sociology, fashion, textiles, ecology and religion.
Periodicals
52
international titles on graphic design, photography, design, art, interaction and digital.
Titles include: Aperture, British Journal of Photography, Creative Review, Eye, Inventario, Internazionale, Cabana Magazine, Lurzer's Archive, Luncheon, IdN and Tate.
The complete collection of Colors magazine (issues 1-90), founded in 1991 by Tibor Kalman and Oliviero Toscani.
CDs and DVDs
400
CDs about ethnic music and sound effects.
308
DVDs by directors
including Woody Allen, Pier Paolo Pasolini, Vittorio De Sica, Charlie Chaplin, Federico Fellini, Rainer Fassbinder, Howard Hawks, Godfrey Reggio, Abbas Kiarostami, Stanley Kubrick, Martin Scorsese, Luchino Visconti and Orson Welles.
Our purchasing policy, as far as the above-mentioned main subjects are concerned, aims to meet the needs of our users and pursue a coherent and harmonic development of the collection.
Photocopying the consulted materials is allowed.
Bibliographic references are provided.